BANNED IN OKLAHOMA ...
Where the sin comes sweeping down the plains.
---
GARY D. RHODES is a professor of Film/Video Studies at the University of Oklahoma, and he has been a documentary filmmaker for over twelve years.

His first film, SOLO FLIGHT, covered the life and career of seminal jazz guitarist Charlie Christian. Along with finding his unmarked and forgotten grave, the film raised enough funds and interest to place a Texas historical marker on its spot.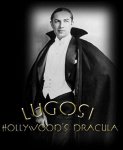 His documentary LUGOSI: HOLLYWOOD'S DRACULA uncovers the life and career of legendary actor Bela Lugosi, examining his early life in Hungary and Germany through his Hollywood successes and eventual decline. The film features a vast array of never-before-seen footage of the actor, ranging from remains of his 1918 film Struggle for Life to behind-the-scenes home movies on the set of RKO Studios. Find out more at the LugosiDVD website.
His upcoming documentary AND JUNE SAID RACHMANINOFF is a case study of Alzheimer's shot over five years and showing the slow eroding effects of the disease.
And his next fictional film, a feature-length comedy called WIT'S END, stars Darryl Cox, Rue McClanahan, William Sanderson, and Udo Kier. Find out more at the HandTruckProductions website.

Rhodes is also the author of four books on film and film history:
He has written for a variety of national film magazines since 1986.
His areas of specialty include Irish cinema, mockumentary, and genre. He has written at length on the horror film, and received the 2004 international "Rondo" award for the Best Horror Film essay of 2003.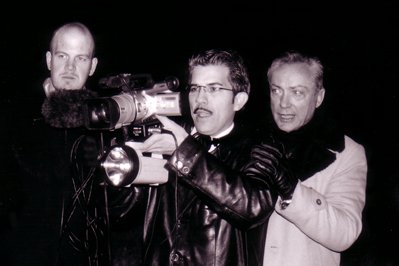 Gary Rhodes (center),
with producer/cowriter Alex Webb (left) and actor Udo Kier (right),
during the filming of Wit's End
---
Last Updated: June 4, 2004